Welcome to the exciting world of tourist and business helicopter flights in the province of Mendoza, Argentina. At La Puntilla Aerodrome, strategically located in this world-renowned wine region, we offer you the opportunity to live unique aerial experiences that will allow you to discover all the charms of this extraordinary destination. From the towering Andes Mountains to the lush vineyards and vibrant city of Mendoza, our highly trained and professional pilots are prepared to take you to new heights and make your trip an unforgettable experience.
Helicopter Baptism Flights
Those interested in making a helicopter flight do not need to have previous knowledge. You only have to book the date and time you want to make the flight.
CITY EXPERIENCE
U$D

285
(10% cash discount)
Transfer from your accommodation
POTRERILLOS EXPERIENCE
U$D

592
(10% cash discount)
Transfer from your accommodation
TUPUNGATO EXPERIENCE
U$D

984
(10% cash discount)
Transfer from your accommodation
Why fly by helicopter in Mendoza?
Explore the treasures of Mendoza from a privileged perspective, admiring the panoramic views of the mountainous landscapes, the extensive vineyards and the many tourist attractions that the region offers. Our tourist flights will allow you to discover emblematic places such as Lake Potrerillos, Cerro de la Gloria and the vineyards of Tupúngato. In addition, you will have the opportunity to visit renowned wineries and taste exquisite wines, all from the comfort and luxury of our helicopters
To ensure your safety and comfort, we have the R44 Raven II Helicopter, a reliable and modern aircraft that meets the highest standards of quality and safety. This helicopter is equipped with advanced navigation systems and has capacity for up to 4 passengers, which will allow you to enjoy the experience with your friends or family. Our highly experienced pilots will give you a smooth and safe ride, while explaining the points of interest along the way.
Flying by helicopter in Mendoza is a unique opportunity to explore the region in a completely different way. We offer you the possibility to admire the beauty of the mountainous landscapes, the vineyards and the tourist attractions from a privileged perspective.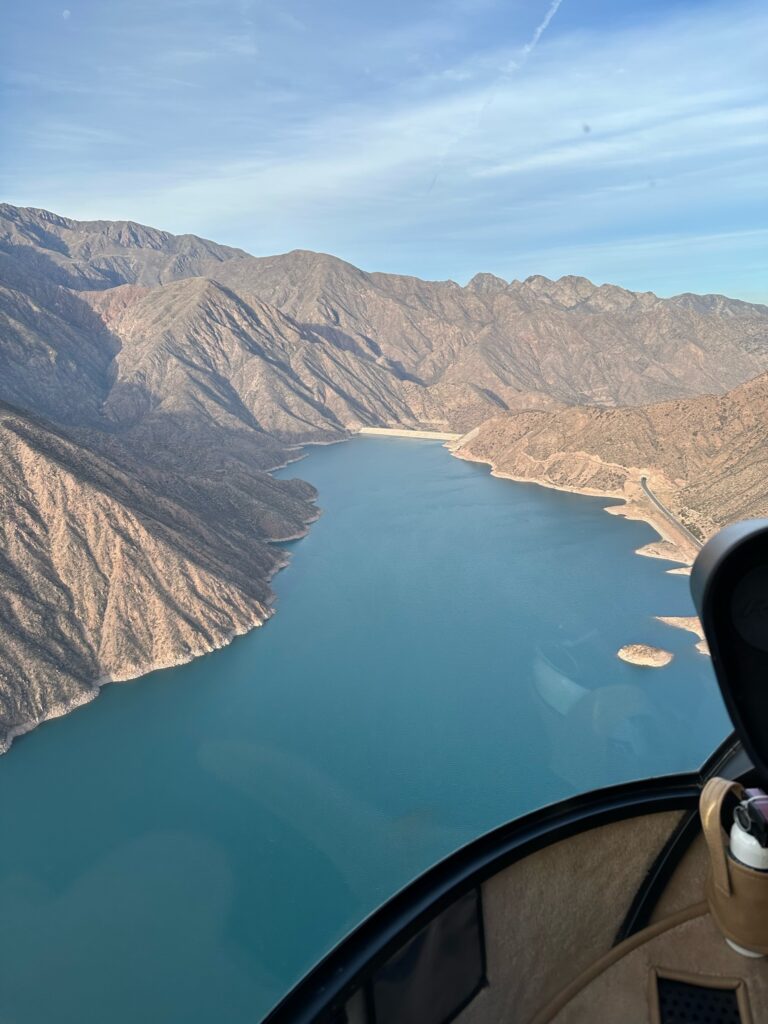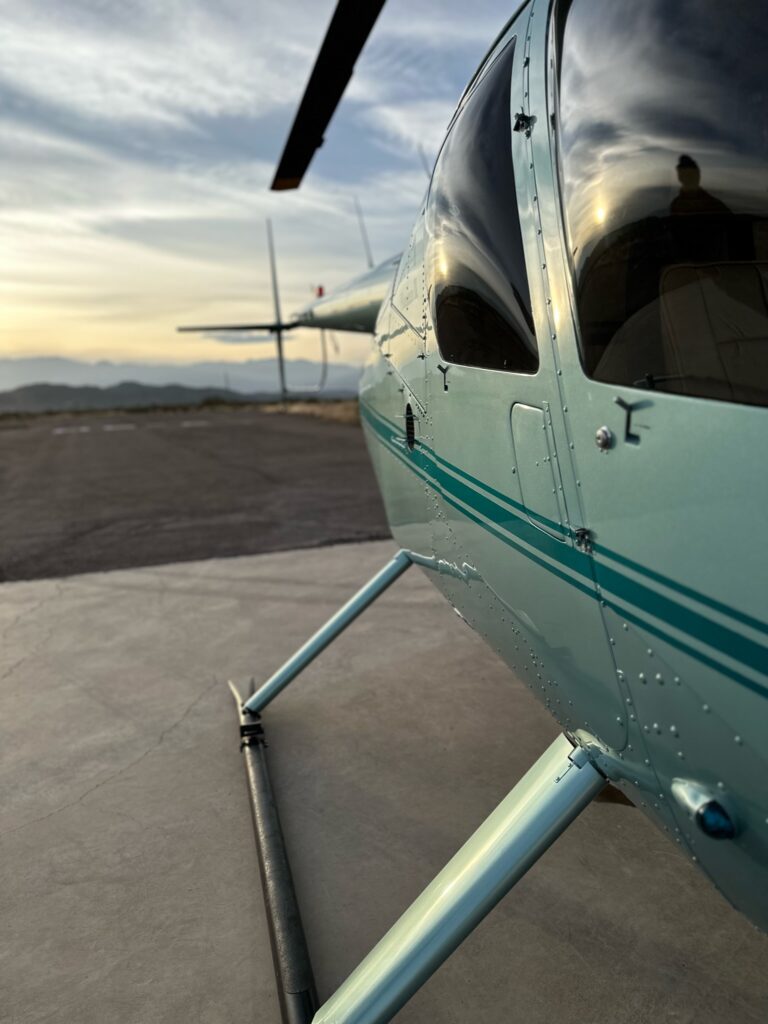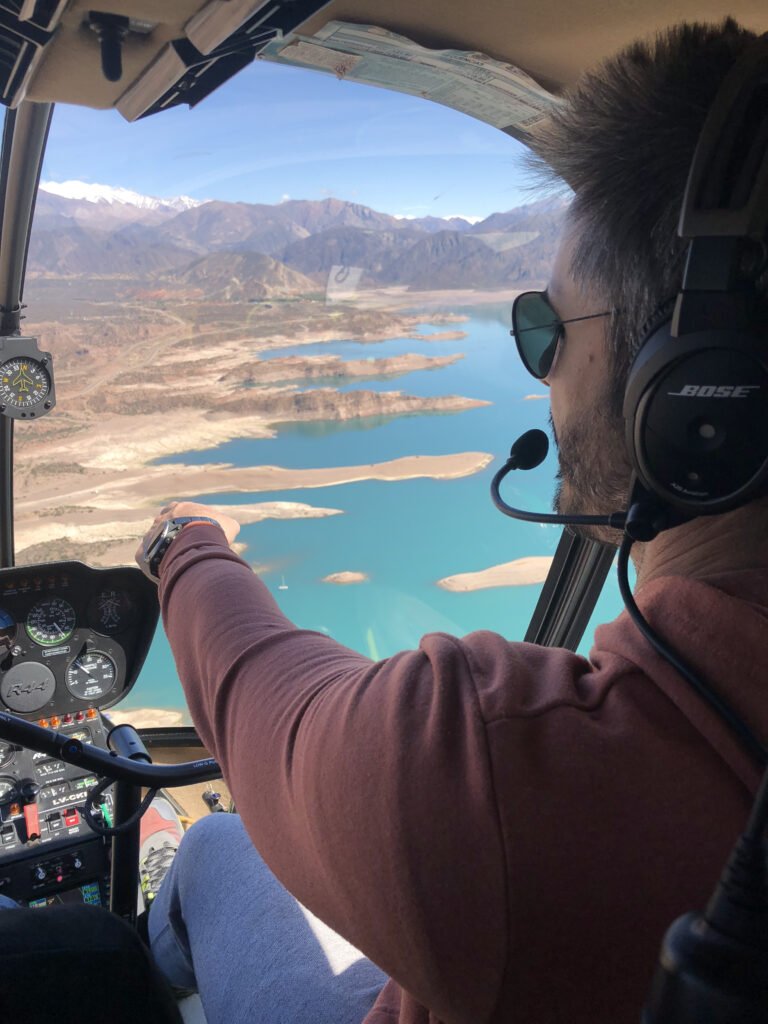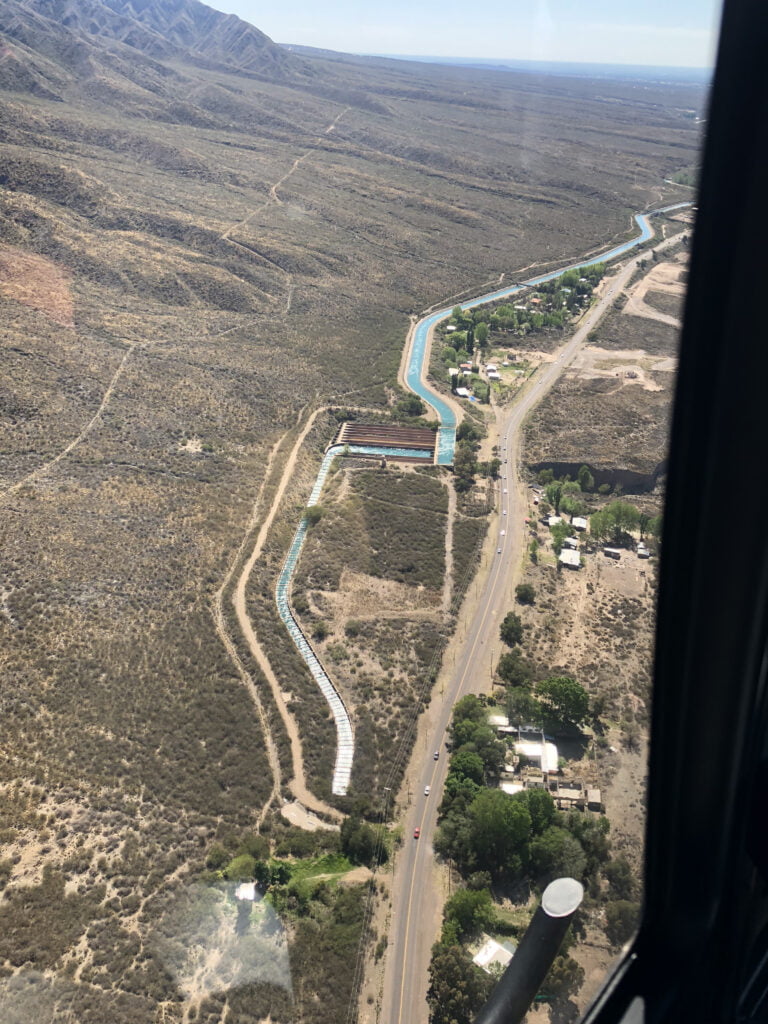 Is it safe to fly by helicopter?
Absolutely. Safety is our top priority. Our pilots are highly trained and our helicopter is subject to rigorous inspections and periodic maintenance. In addition, we comply with all safety rules and regulations established by the aeronautical authorities.
What is the minimum age to fly by helicopter?
Children under 18 must come with their parents or a written authorization signed by them
Did you need special experience or permission to fly by helicopter?
Living the experience of flying as a passenger in a helicopter does not require special permission or previous experience. We have all the necessary permits and requirements for you to enjoy the trip.
How many people can fly in a helicopter?
Our ship has capacity for 3 passengers but we can make several flights per day if you are more passengers.
Is there maximum weight restriction?
The maximum weight per seat is 120 kg
How long does a helicopter flight take?
The duration of a helicopter flight depends on several factors, such as the route and the type of flight you are taking. Tourist flights usually last between 15 and 60 minutes, while charter or transport flights can last several hours.
What should I bring or wear during a helicopter flight?
It is advisable to wear comfortable clothes and appropriate footwear. Depending on the weather and the altitude at which you will be flying, it may be necessary to bring a light jacket or coat. In addition, you may be asked for valid identification documents before boarding.
Can I bring my camera or phone during the flight?
In most cases, you will be allowed to carry your camera or phone during the helicopter flight. However, it is important to follow the instructions of the pilot or crew and make sure that your devices are securely secured to avoid possible falls.
Our customers speak on TripAdvisor and Google
Experiencia única Excelente experiencia. Los instructores transmiten seguridad y profesionalismo. Siempre pendientes del bienestar del turista. Altamente recomendables.
Una experiencia increíble Nos sentimos muy seguras y disfrutamos a full el vuelo. Gracias por transmitirnos confianza y seguridad Excelentes y muy profesionales
Aventura Muy bueno!!! Juan un genio. Súper recomendable. Hermosa experiencia. Una sensación unica e irrepetible.
Exelente Una experiencia única y super recomendable la pasamos re bien y super seguro todo. Nos divertimos mucho
Como las aves en el Cerro Arco Atentos, muy profesionales, me consiguieron turnos para volar, pese a que fue complicado por elmferiado de carnaval. Vuelo de bautismo muy recomendable.
Una locura El salto fue una locura, la experiencia de tan solo volar ya es una tremenda locura. La atencion es exelente y es 100% recomendable
Increíble..!! Juan Pablo y su team son geniales exelente el trato y la experiencia que te hacen vivir.. súper recomendable
Parapente mendoza Excelente experiencia¡¡¡¡¡ Juampi y los chicos son los mejores¡¡¡¡¡ super recomendable, desde la llegada, el viaje en 4x4, el vuelo INCREIBLE¡¡¡¡¡¡ NO SE LO PIERDAN
Debut en el Aire sobre Cerro Arco. Cerro Arco. (Inolvidable) Respecto a la Excursión es muy recomendable para hacer. Tremenda experiencia y muy buena onda la gente de ahí. Tengan presente que varias veces reprograman o demoran el salto según la gente o el clima. Nosotros siempre nos pasaron a buscar, tuvimos 3…
Experiencia super recomendable Fue mi primer vuelo y fue magico. Excelente calidad humana, servicio, profesionalidad y Juan Pablo y equipo hacen que el sueño se cumpla al 100. Marcelo, el piloto que me toco, un genio total.
Me encanto 💖, una linda experiencia!!!!! Lo volvería hacer mil veces más!!!!!
Florencia Rojas
2022-05-04
Me encanto! Muy copados cada uno de los chicos,¿Lo volveria a hacer? Segurisimo!
pablo rodriguez
2022-04-19
Una experiencia inigualable. Los instructores son unos genios.
Experiencia inolvidable! Gracias a Lore y Octavio! Y a mí instructor Alejandro! Genio total! Me sentí segura y a la vez relajada por la confianza que me dieron todos! Vistas increíbles plasmadas en las fotos y videos! Volvería ❤️
Una experiencia inolvidable.